Introducing… Rosie the Robot Realtor.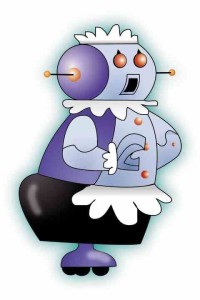 Do you remember Rosie from the Jetsons?  Now.. imagine Rosie the Robot Realtor.  She's AMAZING!!!  Let me count the ways….
She is always on time.  She won't ever leave for vacation.  She is not afraid of the weather and won't ever complain about going through the mud in her nice shoes.  She downloads property data for every property from the interwebs instantaneously.  She will use statistics and logic in her reasoning.  She will tell you anything about everything if you just ask.
You're out looking for a house in your Google Driverless Car (that has now learned to yield to the bus!).
Rosie, how long will it take me to get to work on a Tuesday morning from my favorite home #1?
Rosie, what is the average rain fall at this house?
Rosie, when is the best day and time to look at property with the weather forecast?
Rosie, take this box of stuff to the car for me.
Rosie, remind me to download the video from the last property when we get home.
Rosie, wake me up when we get to the next stop.
Rosie, go take pictures in the crawl space of the plumbing under the master bath.
Rosie, show me where the property lines are.
Rosie, write up this offer for me and send it to the seller.
Rosie, put a bottle of tile cleaner on my shopping list.
Rosie, rekey this house since our sale closed and make 3 copies of keys for me.
I totally want a Rosie Realtor!  Of course, I also have a fascination with drones… so there's that.
You know what the NAR says?  (We call them the NAR for short, but it's the National Association of Realtors, and they have a lot of political influence over real estate and financing related issues.) They think Rosie the Robot Realtor is a threat to the industry.  They site things like ethics and negotiations and you know… the stuff that matters.
But really, let's think about this for a minute first.
ETHICS.  The NAR has a code of ethics.  Washington State has their statues.  Now, if I am an ethical person, then I will sign the code of ethics that holds me to a higher standard.  But… what about the other side?  You think that unethical person won't sign the document?  Of course they will!  They're unethical!
NEGOTIATIONS.  Let's be real.  We don't all get along all of the time.  There are some individuals who know a great deal of information and how to negotiate deals smoothly, then there are the others….  Is Rosie the Realtor such a bad thing in this instance would she be a good negotiator?  Well… we will never know until we try it.
THEN, THERE IS THE REST.  You know where Rosie won't help me?  On the stuff I have to figure out on my own.  Zillow doesn't know everything.  The MLS only knows what agents tell it.  Many times, the County has the information wrong in their records.
Despite all the technology available, many days we have to go stand in line at the permit and planning counter to ask questions and get answers.  That still requires people.  At the planning department, that sure requires some social intuition too to get the approval!
You know what else we have to do?  Call the contractor the day before closing to fix an emergency appraiser request and then personally deliver the proof immediately so we can close on time.
Lately, I'm working on more property deals that are not listed than on ones that are.  Know how you find those for your clients?  With a shortage of options on the market, you find them through endless hours of talking with people and asking questions.  Getting rejected, and then asking again.
So, is Rosie the Robot Realtor our saving grace?
Absolutely Not.
BUT…. Just think about how cool it would be if you could combine her services with those of a true professional in the business.  That is awesomeness just waiting to happen.  Sign me up!
In the mean time;
Need a true professional to fill in gaps in your technology?  I'm easy to find any day except Sunday (see.. I should have a Rosie!)  Jen Hudson call/text (206) 293-1005 or Jen@HudsonCREG.com.