This week I was down in Seattle looking at property for investors.  I know we've all seen them: the cranes.  The cranes downtown seem to keep working on more and more apartments, condos, and mixed use developments.  Those cranes have been around so long, you may not even notice them anymore.
It looks like there is an endless supply of apartment units coming soon. Apartment construction in top markets across the country has surpassed a 24-year historical average.
With all these apartments, you might not notice that single-family rental homes have actually grown faster than apartments.  As the national home-ownership rate has declined with the never-ending challenges that go along with getting a loan today, one would assume that apartments would be the preferred rental choice.  This might be true in urban locations, but Puget Sound has a lot of land and a whole lot of people who still like homes.  Those people prefer to rent homes, not apartments.
Consider this information from David Guarino with John Burns Real Estate Consulting Firm:
11.3% of all housing units are single-family rental homes (roughly 1 out of every 9 homes).
The number of single-family rental homes has increased 35% since 2006, from 11.2 million in 2006 to 15.2 million today.
Since 2006, 3.9 million single-family homes have become rental properties, compared to 2.9 million newly created apartment units.
As foreclosures slow, we expect the rate of single-family rental growth will slow as well.
However,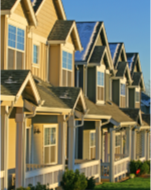 many of the larger institutional operators spotted a huge opportunity to build investment-quality income from what has historically been a mom and pop business.  If investors like Blackstone are still purchasing in the Seattle markets today, maybe they are on to something you should consider.
I tend to agree with Blackstone and all my other investor clients right now.  It's still a better time to buy today than it will be tomorrow.
If you've been considering getting into the real estate investment market or know someone who wants to, give me a call at (206) 293-1005 or email: Jen@HudsonCREG.com.
This is stuff I do every day.  (Literally.. every day… even days I plan on doing something else, HA!)  If I know you're looking, I'll keep my eyes out for a deal that fits with your criteria.  At the very least I can help keep an eye on the market for you personally.